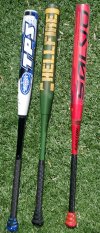 7swings each with point system.
HR=3pts, Fence=2pts
OneHopFence =1pts
Zero Swings on the LS and Salvo going into this quick review. Hellfire has about 50 to 60 hits.
Sorry but the Hellfire got bested by these two bats. Was a close battle but for a Dual Stamp to edge it out says much IMO. Again different swings by all so maybe for some others the Hellfire delivers. Not a bad bat for 1st try and if Pure continues with the USA space, I'm sure they can deliver.
LS PEO Williams 12" barrell finished with 9pts with 3 gatecrashers and OTF. Honestly, these early swings might make this my favorite LS on the ASA front. Just the right endload and the sweetspot was decent size for short barrel.
Easton Salvo 13.5" Dually finished with 7points on 2 gatecrashers. Bought this last year early and finally decided to unwrap. Again just me but more promising on 7 swings than the 50 plus Pure. Old tech TCT composite from Easton on this one. Added benefit that can be used in 2 associations.
Pure Hellfire finished last 6pts. Did get one gatecrasher but distance lacks right now. Maybe it needs that 300 hit mark. Won't find out soon enough.