Hey, so I just bought a used Mizuno GCP51 of Ebay, and depending on the actual condition of the glove and laces when it shows up, I'm considering trying to relace it needed. But if I do, I'm debating on keeping it black laces, or getting fancy and adding some contrast.
I'm a huge mariners fan, so I was thinking Teal, or dark blue. But also thinking a traditional Tan. Or maybe even white... but I'm thinking white is just gonna get dirt stained over time. Open o opinions if other colors, or pictures of your black glove with colored laces.
Edit: Just to be sure I don't get heat, I am browsing through the threads looking for restoration pics, but there's a lot more brown gloves than black, so curious more about black glove pics.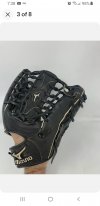 Last edited: